Controls
Most Finn-Power crimpers are available with two type of controls:
• MS Control
• UC Control
MS Control
MS models are well suited for single-piece production (e.g. repair shops). The MS control is the most basic and easy to use control offered by Finn-Power.
The crimping diameter is set by using a 10-turn vernier dial. Each turn is equivalent to crimping diameter changes of 1 mm. The dial is incremented in whole, tenths and hundredths mm settings.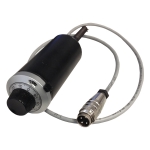 MS control device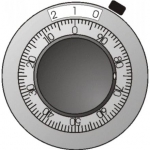 10-turn vernier dial of MS control
UC Control
The Finn-Power UC control is the most advanced crimping control in the world.
The UC control is a modern user interface based on icons, a selector and clear, visual indication of all crimping parameters. Basic functions are quick and easy to use. The UC contols is capable of online quality monitoring.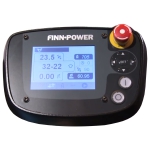 Data Storage
For crimping parameters and die sets
USB availability
Microsoft-compatible file format
Counters
Ascending/descending piece counting
Expandability
Pressure crimping
Multi-step crimping
Online quality monitoring
Standard features and extensions 
Standard features
Diameter crimping, diameter retraction, correction, delay
USB-connection
Manual / automatic mode
Tool Change Wizard
Data Storage
User-friendly navigation
Ascending / decending counters
Die position displayed
User levels
Energy saving mode
Units: mm or inch
Brightness and contrast control
Extension possibilities
Extensions
UC1, Pressure crimping
Ideal when parts with large tolerances or sensitive materials need to be crimbed
Measuring from pressure
Can also be used with crimping by diameter
UC2, Multi-Step Crimping
Ideal when part has to be crimped into several different diameter
Step crimping by diameter
Step crimping by pressure
UC3, Online Quality Monitoring
Online quality control: automatic / manual corrections
Out of limit-functions: locking / alarm
Data collection
Data transfer: USB / FTP
Extras 
FTP – connection to network
Bar code scanner
Mod bus