Powerco Crimping currently has a number of machines in stock and on sale. Below you will find a list of these machines and a brief description.
Some machines come in a range of configurations including power options and crimping head placement. Contact us to confirm which options are available in stock.
Also remember, small businesses are still able to claim an immediate deduction for assets they start to use – or have installed ready for use – provided each depreciable asset costs less than $20,000.
32MS – 2" – Strong and compact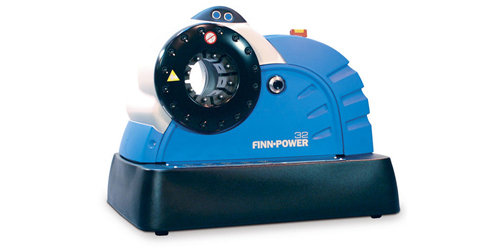 32MS key features:
Precision, durability, force and ease of use
Ergonomic design
Available with MS or UC Controller
Single phase or Three phase
High-quality crimping power for years and years
User friendly Quick Change Tool system
Finn-Power 32MS and 32UC has the same fabulous crimping features as the 20 series of crimping machines. They are mid-range in terms of power, but compact from the point of view of space requirements. 32 machines provide 2000 kN crimping force in a highly compact, ergonomical design. They are ideally suited for single piece production in machine shops, repair workshops etc. All table-top machines can be mounted on a Quick Change Tool Base. Up to 16 die sets can be stored in a base for operator convenience.
Options available:
Special die sets
Mechanical back stop
Quick change tool base
Die set rack for dies
Foot pedal
P16HP and P16AP -1" Portable Hydraulic Hand Pump
The P16HP and P16AP are lightweight and compact, however still robust. Ideal for mobile applications. The P16HP is operated by a hydraulic hand pump and the P16AP compressed air.
Both crimpers are ideally suited for manufacture of hose assemblies in mobile service vehicles and areas where electrical power is not available. It can be carried onto the job site using the built in handle. The built in drawer in the base frame (5 compartments) holds the Die Sets. The Crimping Die Sets clip into Master Dies, and are released with a twist. Hose couplings from 1/4" up to a maximum hose size 1" can be crimped.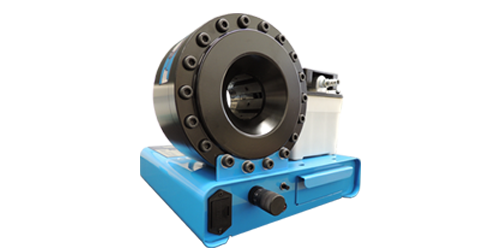 To operate the machine the hose is fed horizontally only into the front of the machine. The dies are retracted by springs. The Crimp Diameter is easily set by the accurate Vernier scale. When the preset crimp diameter is reached, an indicator lamp is lit, and operation of the pump or compressed air must be stopped.
P20CS and P32CS – 12V-24V – Ideal choices for Service Vehicles
This model can utilise the DC electrical power source of a mobile service vehicle or an industrial machine. The Crimping Diameter is set by stepless adjustment of the 10-turn Vernier Scale Dial, to accuracy of +- 0.1 mm. Features include; easy Push Button controls, with automatic stop when the preset crimp diameter is reached.
Low pressure, to multi-spiral high pressure hydraulic hose assemblies can be crimped with the P20CS or P32CS. Hoses can be fed horizontally from both front and rear of the machine.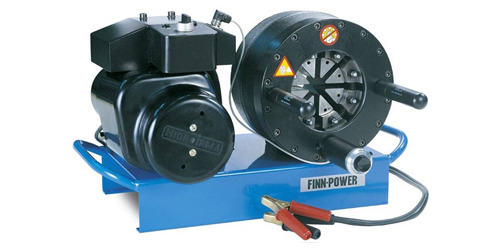 Rapid Retraction of the dies is assisted by two gas springs units. Hose Couplings from 1/4" up to maximum hose size 1 1/4" can be crimped with the P20CS or up to 2" with the P32CS. Both models are also available in 24V or 12V versions, and with crimping heads on either the right or left side.
P20X and P32X Series – Strong table top machines
Finn-Power P20X and P32X crimping machines are cost-effective alternatives for single-piece production. Finn-Powers X series are the most durable machines in the general machine line.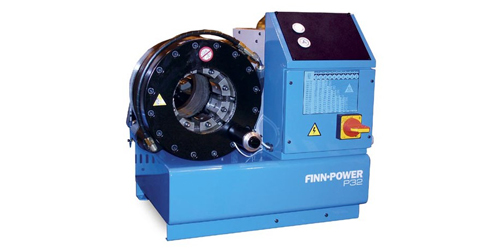 Fully built from steel the P32X has a crimping force of up to 200 ton, and is suitable for a wide range of applications.
With the same significant advantages than the other Finn-Power P-models:
Precision
Durability
Force
Ease of use
P20X and P32X Series – Strong table top machines
Both the P16 HPZ and P20ZCS operate exactly the same as their standard counterparts, however the crimping head and hydraulic units are separated with a extended hose enabling easy use in trucks and other applications where the others not suitable. The extended hose on the P16HPZ is approximately 3.8m. As with all P20CS machines supplied from Powerco Crimping, the Z series are also available in either a 12V or 24V configuration.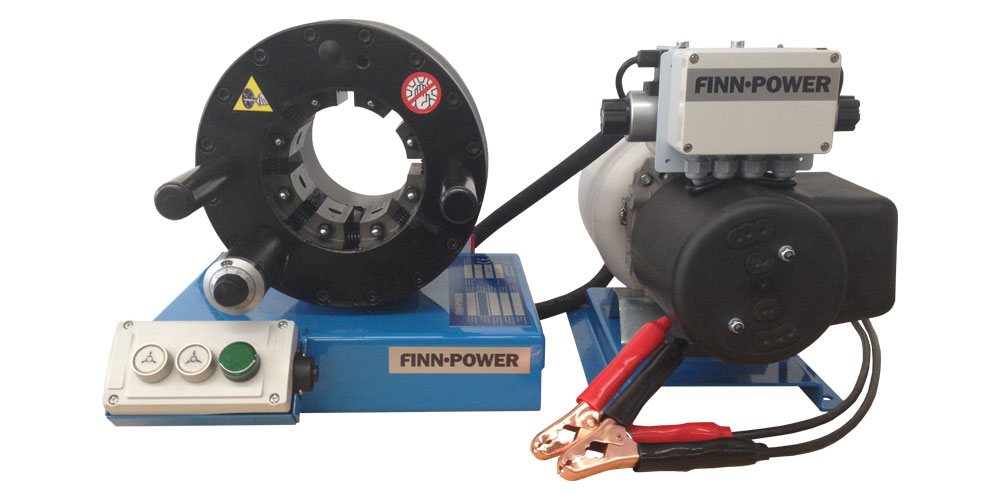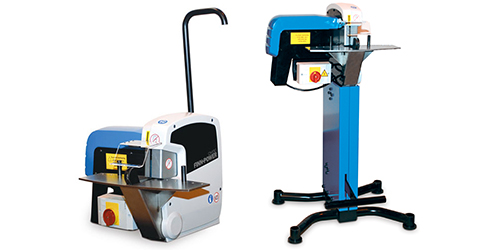 Finn-Power CM30 and CM35 cutting machines are manually operated and designed for service use, in workshops and service vans. They can be used for cutting up to 2" braided hoses efficiently, fast and safely.
Both models are equipped with fume exhaust connections. Available in 12V, single phase or 3 phase.